Governor Kemp Web.jpg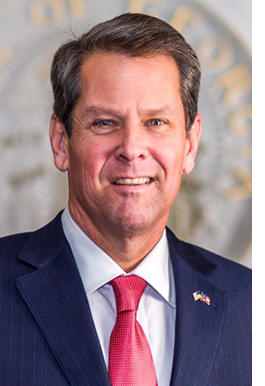 Brian Kemp is a husband, father, businessman, and public servant.
On November 6, 2018, he was elected as Georgia's 83rd Governor, earning more votes than any gubernatorial candidate in state history.
Governor Kemp built his first business – Kemp Development and Construction Company – with a pick-up truck and a shovel.  Over thirty years later, he is a successful entrepreneur with businesses and investments in banking, farming, timber, manufacturing, and real estate.
Kemp served on the Board of Suncrest Stone in Tifton, as a Founding Director of First Madison Bank, and on the St. Mary's Hospital Board in Athens.  From the backhoe to the Board Room, Governor Kemp understands how to successfully create jobs, grow companies, recruit start-ups, and make deals on the international stage while also providing opportunities for hundreds of hardworking Georgians.
Out of frustration with government, Brian Kemp ran for public office in the early 2000s.
In the State Senate, Kemp was instrumental in fighting to cut fees, taxes, and mandates on job creators and Georgia families.  As Secretary of State, Kemp utilized technology and innovation to cut bureaucratic red tape, slash spending, and streamline government.
As Governor, Brian Kemp will fight to make Georgia #1 for small business through regulatory reform.  He will ensure that all parts of our state - including rural Georgia – have opportunities to grow and thrive. Kemp will fundamentally reform state government, keep our families safe, and always put hardworking Georgians first.
Kemp, 55, is married to the former Marty Argo of Athens.  They are the proud parents of three daughters – Jarrett, Lucy, and Amy Porter – and are active members of Emmanuel Episcopal Church.