May 27, 2016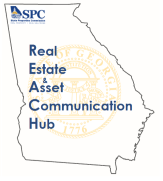 Welcome to REACH!
This web-based system allows for the sharing and tracking of transaction related information between SPC and its customer agencies.  The system is designed to be more efficient than current processes by eliminating the use of paper forms and providing real time access to the status of any transaction request.  In its full version, REACH will be the primary communication tool between SPC and its customer agencies for both Leasing and Land transaction requests.  At present, the only portion of REACH currently available is for agencies seeking "New" leased space.  Agency requests regarding renewals, renegotiations or cancellations of a current agency leases are not current available in REACH and should be handled using SPC's traditional processes. 
To access REACH, just click on the link here: REACH
Other helpful information:
To access SPC's forms for any requests related to lease renewal, renegotiation or cancellation, please use this link: SPC Space Management
Having trouble navigating REACH?  Access the Agency Training PowerPoint presentation: REACH Space Module Training Presentation
NOTE:  In order to access REACH, your agency will need to complete the Agency Agreement form for each of these roles: Entity Primary Submitter and the Entity Budget Submitter.  Below are the links to both the Agency Agreement form and the REACH Terms and Conditions.
Agency Submitter Agreement Form